Thetahealing® individual sessions
Use the power of metamorphosis
Mental coaching with theta healing helps you with:
∇ To come into your potential
∇ to go your own special path
∇ Finding and living your heart mission
∇ Being confident in your job and private life
∇ To live balanced and harmonious relationships
∇ Dissolve blocking beliefs and programs
∇ To transform self-doubt into self-acceptance and bravery
∇ Get rid of the causes of stress in your life
∇ Transform burnout and exhaustion into new vitality
∇ Turn anger, resentment and regret into new creativeness
∇ Process shocks and trauma in the depths of your system
∇ To solve depression and to convert it into new zest for life
∇ Find out and solve the psychological causes of diseases
To free yourself from burdens and find trust in yourself. So you can make your dreams come true. Open the doors of your heart for vitality, happiness, love, lightness and joie de vivre.
Say YES to your wonderful being and life!
Procedure of an individual session
Price:
1 hour: 75 euros
5 hour-paket: 350 euros
Personal & phone
Bitte note: The dates are binding.
If you still cannot keep an appointment,
please let me know at least 24 hours in advance,
otherwise the amount of 50 euros per hour will be charged.
*This form of life support does not replace the visit and the diagnosis
of a doctor or naturopath. Mental coaching supports the processing
of Causes of illness and negative feelings in the depths of the energy
system. Physical complaints however, need additional medical care.
I am looking forward to you!
Julia Buschmann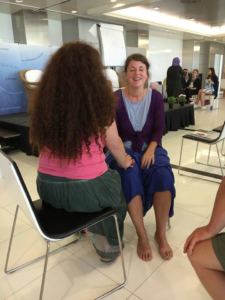 Copyrights
Julia Buschmann
Indigo Sun